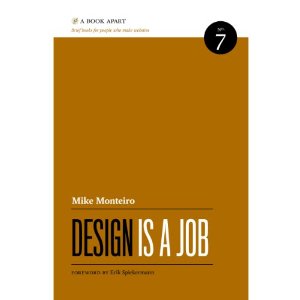 Mike Monteiro's irreverent "Design is a Job" is the only self-help book any designer will ever need.
Full of practical advice such as how to network effectively, what to charge, how to manage feedback and how to pick the right clients, Monteiro imparts wisdom with humour and sincerity. You can tell this is knowledge hard won.
Design is a Job is available to buy via A Book Apart, or if you prefer to have Mike Monteiro's dulcet tones coach you through the business end of design, there is an audio book version from Audible.com.
I first came across Mike Monteiro through his "F*ck You. Pay Me." video, part of the San Francisco Creative Mornings series, which is also worth a watch.
2011/03 Mike Monteiro | F*ck You. Pay Me. from San Francisco Creative Mornings on Vimeo.