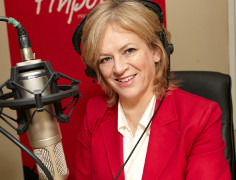 Client
This website was created for a podcast series featuring interviews with journalist and broadcaster Angela Mezzetti and some of the most inspirational female entrepreneurs.
Claire Regan is a consummate professional who thinks clearly and strategically about projects and conveys difficult technical concepts in an uncluttered simplified way to the non-tech person. Claire understands the importance of designing the back end of a website and its architecture with the client's goals front and centre so that the website does what it is supposed to do. The user's experience drives how the website works and evolves.
Objectives
The purpose of this site was to establish a listenership for the podcast and to attract sponsors and other sources of funding.
Considerations
The target audience for this site is podcast listeners interested in entrepreneurship and workplace diversity, as well as potential podcast sponsors. It is likely that the audience will be largely female.
The podcast is recorded and broadcast for Dublin Ireland but can be found in a number of podcast directories including the iTunes store. As the website content is available through these alternate platforms, it is possible that fans of the Women in Leadership podcast may never visit the actual website.
As podcasts are overwhelmingly consumed on mobile devices, it was also imperative that the site be optimised for different devices.
As well as increasing the cost of website hosting, large audio files can increase the loading times of website pages considerably, having a negative impact on search engine rankings.
Solution
As Angie intended on updating the site regularly she wanted a simple interface and powerful content management system that she could learn to use herself, I recommended a site built with WordPress.
Using WordPress also meant that the website could be easily integrated with affordable media hosting from Blubrry.
Broadcasting the podcast episodes via third party networks like the iTunes store meant that podcast feeds had to be set up with as much relevant information as possible. We also spent time ensuring that the information for each episode was provided in a consistent format and included details relevant to listeners.
I was consulted on ongoing digital marketing campaigns and brainstormed ideas that would be interesting to her target audience including the #jawdroppers campaign on Twitter
I also advised on sponsorship opportunities for advertising and on how to go about monetising the website.