I came across these irreverent design awards today which claim to be the first design awards to highlight "Ugly", "Silly" and "Useless" products.
While bound to make you laugh, it does broach the question:
Is ugly design necessarily bad design?
First of all what is ugly design? While some purists (William Morris) would argue that the only truly ugly design is design without function, 2009's Ugly category winners all share a sort of creepy anthropomorphism (despite apparent functionality) that is presumably the deterrent for Oops' judges. Making objects that little bit more alive can certainly go both ways but why does it work for Alessi (Anna G corkscrew) and not for Jason Miller and his Woolly Chair? At a wild guess I would say that it is a more visceral "willingness to be left alone in a dark room with the design piece in question" that has a lot to say about whether or not the level of anthropomorphism has hit the right spot…
I have to say, an aspect of these design "un"awards that somewhat irked me was the "Useless" category.
The goal of design can also be to comment on every day life and on consumer and user habits.This type of Design Art, while perhaps not "Useful" in the strictly functional, utilitarian sense, can still serve a purpose.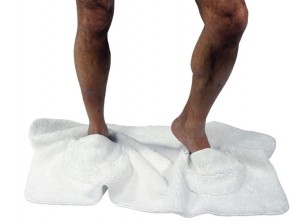 Design groups such as Dutch collective Droog, often use design pieces that highlight a particular nuance of character or eccentricity of behaviour as a method of sparking debate in the design (and user) community.
Products like the Mat Walk Bathroom Mat (Paolo Ulian, Droog), encourage users to reflect on their interaction with products and environments. We all do the "post shower shuffle" and this seemingly ridiculous design embraces it.
While the Oops Design Awards are a novel idea, and I certainly agree that bad design deserves as much comment as good design, I hope that their consideration for nominees for 2010 will not ignore this aspect of the role of design.